The canvas is featured here.. this wednesday, an exibition together with some local writers & fine artists
a little preview of the latest canvas i did... i call it "Melbourne Memories" .. the look of the canvas has nothing to do with melbourne, but the whole feeling of being back in melb & painting again, inspired the name....
have a chill out week people, go watch a movie after work!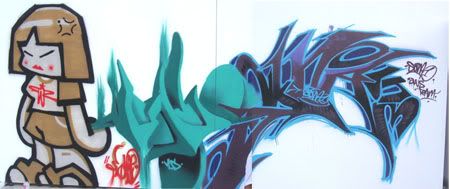 Shieko, VDS & Sona.. showcase at a recent Graf Comp at Cineleisure ... More pictures about the event - vdsoul.blogspot.com
I Left this on a sidewalk, at Hosier Lane.. colorful tags on 2x1ft cardboard
I'm Living nocturnally... Damn It!
along Caledonian Lane...
at Docklands
sticker albums..
at Ha-Ha's Studio....
Gloomy Days & Freezing Nights... I Love It!
Spraypaint on 2x2feet canvas.... title: water bubbles...
Did this a day before my flight to Melbourne...
Here's a picture i took at the airport.. Yeah.. i didn't take much... Will take more soon!
Zedane's "Header" was a Killer!!!
Congrats Italia...
Picture Credit : Shieko...
Take care guys, be productive.. get lots of sleep, eat lots of fish... will see you peeps real soon.... Melb, here i come!
Some Details...
at the start..
This is the sketch i did at mamak a week ago on some old newspaper.. which inspired my current prom piece...."Artwork title: My Chinese Fisherman"> ....
Happy Birthday Cat Woman Shieko... and also to my "Geng Kumpulan Kongsi Berwarna-Warni" SWS, I'm leaving to Melbourne this Friday, lets meet up!
a last minute piece, for a friend's prom night.....
The 'friendly match' (production) with the members of Vertor1.1 over the World Cup Theme. As how it was, Katun (Argentina), Sopey (Portugal), Demon (Tunisia), Carpet (England), Drew (Germany), Sona (France), Vds (Italy), Shieko (Japan) & Ork (Brasil). Enjoy...
Hello again people, wow.. what a week, 2 sessions of bbq & 3hours of sleep.. then painting at melawati... hehe, it was all great.. the piece i did was kind of a lazy piece, didn't really had the mood... but it turn out alright... we did a "friendly match" worldcup theme together with the Vector1.1 kids.... will update the entire production real soon.. have a hot & firey week!
a word to them toys out there, LEARN TO READ, BEFORE YOU WRITE!!