Something Worth Seeing... SWS
Some throw ups i did yesterday & 2 weeks ago...
Me & Shieko went back to the TV station to paint some boxes & to finish up what was not finished yet that day....
The Angel & Devil piece... Blue Piece done by me, characters by Shieko, Firey piece by Sona & Background by VDS...
Detail...
Can't believe I'm leaving back to Melbourne in exactly 2 weeks time... But anyway, Here's a session we did together as a crew at some local TV broadcast studio, apparently its for some TV show... One piece has a Theme of Angel & Devil... the other was a experimental piece we did.... I call it, the "RAW" approach... Enjoy!
---------------------------------------------------------------------------------------------------------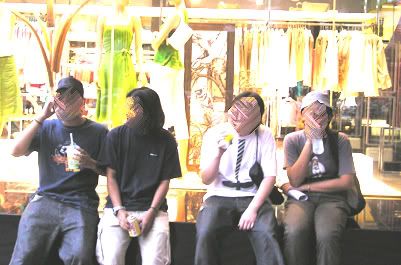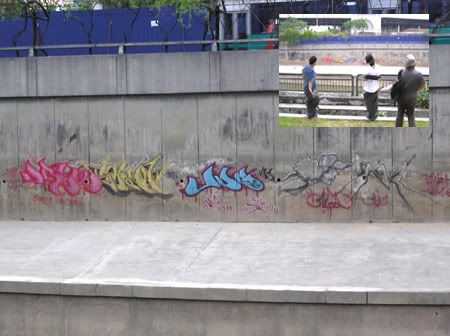 Today we went around KL to take some pictures of the City & to chill out...
@ Liquid, Nenok & Joe Phiber of Wack Crew in action....
Shadows, this is the indian Bar i painted before i left to Melbourne... can't believe they really made the tag i gave them into a Logo....
i wonder how would Tagging + Rice taste like? (Picture taken at a Cafe below Liquid)...
The bombing session after Liquid...
Today was the day BLAST OFF (A Talent Competition Held by Astro) held their Semi Finals... and me and the crew went to ORANGE, where it was held to support the KLG Sqwad Boys... We ended up there just in time to see them performed and getting good Credit from the Comp Judges... Congrats KLG, hope you guys make it to the Finals... and i have a feeling you guys will...
Later after watching some other bands performed, we left Orange and headed to this bar/club called Liquid located in Central Market (KL) to see Nenok & Joe of Wack Crew do their live graffiti showcase... The fumes of aerosol surrounded the entire floor and RNB music was played.. The word that they Wrote was "Dance Hall Friday"... I think it was a pretty good piece and they managed to blend some really nice colors into it... We didn't get to see the finished artwork because all of us decided to go around Bombing... and we managed to Hit the River Banks of klang river... I apologize for the Dodgy pictures....